CeCors Inc (OTCMKTS: CEOS) Opportunity Mushrooms with Disabled Veterans
CeCors Inc (OTCMKTS: CEOS) is at heart a mushroom company with products on the shelf that is transforming into a disabled veteran benefits company.  Many have heard of magic mushrooms, psychedelic mushrooms, and psilocybin and their medicinal benefits. One of the biggest consumers of these products is disabled veterans. The core company is PsyKey which is a vertically integrated mushroom company developing medicinal products for healthcare professionals and consumers.  The products come primarily from functional mushrooms that have specific purposes.  Their mushrooms are cleverly mixed with coffee pods as a delivery system that allows people to start their day off right.      
While the company does have modest revenues from the sales of their core products, the sizzle is in the acquisition of VetComm Corp. announced in mid December. The reality was that this binding letter of intent was not taken seriously by market participants until they were beaten over the head with a video with the charismatic CEO of VetComm, Kate Monroe.    
This video outlined her goal of onboarding 1.0 million veterans of the 14 million veterans eligible for disability to get their rating.  If she accomplishes this goal she claims 
"This would put $30 billion per month into the US economy"
The huge problem they are trying to solve is the simplification of the governmental claims process.  These 14 million veterans eligible for benefits simply don't have the energy to cut through the red tape and get a successful disability rating with the government.  VetCOMM has a seasoned team that essentially handles the rating process for the vets.  All the vets have to do is pay the monthly fee and answer the questions from VetComm.  
1.0 Million Veteran Challenge
Anyone thinking that 1.0 million isn't attainable is underestimating both the CEO Kate Monroe, a veteran herself from the Marine Corps, and the networking power of veterans. Veterans are a tight knit community.  Think about it some of these vets were sitting in a foxhole and their life depended on their buddy doing his job.  So when these vets sign up for VetComm and get a positive result and then call their buddy up and say trust me you need to do this, there is no waffling around. Vets will listen to other vets.  This video from Randy Couture just shows you a hint of the star power they have behind this company. 
The government set aside tens of billions of dollars for disabled veterans but navigating the rating process with the government paper pushers is worse than combat for some of these vets.  They get discouraged and give up, that is where the tenacity of the VetComm team comes into play and knows how to successfully navigate the bureaucratic maze and get results for these veterans. VetComm just takes a flat fee for their service ($247 or $997) and the vets could receive thousands of dollars monthly depending on their level of injury.  There is no reason not to try, and the company has a money back guarantee.  Even more exciting is the back pay some of these vets could receive.  Wait until some of the testimonials go viral.  The website currently has real testimonials from veterans sharing their story of how easy it was to get rated.  The message from VetComm is that there is nothing to lose and almost everyone walks away with something.  
The CEO is a networking guru and has pictures with top politicians and generals all supporting her efforts.  These are top politicians like Senator Ted Cruz, Roger Marshall, Earnest Grassley, John Cornyn, and Deb Fischer. Then there are the celebrity endorsements from Randy Couture, Ken Shamrock, Donald Trump, Jr., Sarah Palin, Matt Thomas of Parmalee, Carl Higbee, and Gretchen Carlson. 
Revenue Estimates
The revenue off of her 1.0 million veteran goal could be $500 million considering that the average fee is about $500 dollars assuming the majority will opt for the do it yourself rating instead of the "Done-For-You" service.  The company has no formal projections but if they do release something it could be a big catalyst. The costs of goods sold on this are marketing and the customer support line.  VetComm is essentially getting a small sliver of the $30 billion monthly pot of money the government has agreed to pay out but hasn't had to because the veterans haven't filled out their paperwork.  Kate Monroe is creating a social movement in the veteran community to take what they are owed and not let politicians repurpose those funds for other special interests     
Acquisition Synergy
There is a sense of community that VetComm is trying to establish.  Many of the vets that suffer from PTSD would be helped by the functional mushroom products.  There is also a planned expansion of the product line that the company alluded to last year.  A natural expansion of the line could mean that other products like gummy bears, capsules, or other delivery systems are introduced.       
Financial Analysis
The company has 332 million shares in the O/S and has 148 million in the float.  The current market cap is sitting at close to $10 million. Since they are an operational company with revenues they had their Shell Status designation removed from OTC Markets.  The company has also openly stated that they are not going to reverse split the stock or take on additional dilution.  This might be interpreted to mean that they won't exceed the authorized limit of 500 million shares.    
This means the VetComm acquisition is likely to be paid with treasury stock.  In early 2022 87.75 million shares were brought back into treasury and could easily be reissued for the purchase.  This is complete speculation because the details of the acquisition have yet to be released but the bread crumbs lead to a very shareholder friendly transaction.  
Risks
There is a definitive deal to acquire VetComm, but investors are not privy to the terms of the deal. Therein lies the major risk. Investors have no idea how much dilution is possible in the acquisition nor do they know how strong the underlying business is. Dilution would have to be less than the authorized max.  It's impossible to tell if it's a good deal or a bad deal, although their comments on social media demonstrate it's going to be very positive.  Leadership is a question too because there is no CEO at the helm.  The filings show Amar Bhatal is the president and the CEO spot is vacant. While it's reasonable to speculate that Kate Monroe would be the ideal candidate for CEO, she has no public market experience. If the VetComm acquisition were to fall apart many investors could be holding the bag because the underlying mushroom business has not generated sufficient earnings to support the public listing short term.       
Investor Summary
The volume is just starting to ramp off of what looks like a long term bottom so there doesn't appear to be much downside at the current stock price and plenty of upside to $.12. The mushroom industry is massive, but a unique opportunity exists in servicing veterans.  VetComm is led by a charismatic CEO who might very well take over CEOS.  Her social media standing suggests that she is going to use digital marketing and the power of veteran networking and endorsements to mobilize the veterans.  This deal can almost be considered a Software as a Service (SaaS) deal as it contains those components.  The goal of attaining 1.0 million veterans by year end could translate into massive revenues in the tens of millions or hundreds of millions with little to no customer acquisition acquisition costs (CAC).  It's too early to tell, but CEOS is one of those long term fundamental plays that should be held in a speculative portfolio. Should they complete the acquisition and give revenue estimates investors could see long term 12 – 18 month upside up to $1.00 assuming a fully diluted 500 million O/S and $500 million in revenues trading at a multiple of 1X sales. The downside risk is nominal given their rapidly expanding mushroom line that could be cash flow positive on its own this year.  
Disclosure: MicroCapDaily has not been compensated for this article. This post was written by a guest contributor and posted on our website for free. The owners of MicroCapDaily have no position in any of the securities mentioned.
Global Tech Industries Group Inc (GTII) rally could be just getting started
Small-cap stocks have seen a significant increase in the first weeks of January, a trend that is often seen at the start of a new year. This presents an opportunity for investors to capitalize on the surge before it dissipates. The Russell 2000 index, which follows small-cap stocks, has shown a 7.4% increase as of Monday's close, outperforming the large-cap Russell 1000, which has risen by 5%, and the S&P 500, which has increased by 4.5%.
The "January Effect" rally, where small caps surpass large caps, is a common phenomenon. One such stock that may be benefitting from this January effect is GTII. Global Tech Industries Group Inc (GTII) last traded at $1.86 and closed with double-digit gains of 11.08%.  GTII has a 52-week range of $0.4302 – $8.9700, suggesting a tremendous upside potential from the current levels.
To Find out the inside Scoop on GTII, Subscribe to Microcapdaily.com Right Now by entering your Email in the box below
Subscribe to Our 100% Free Penny Stock Newsletter. We Have Something Big Coming!
What caused the surge in GTII share prices?
For the uninitiated,  Global Tech Industries Group, Inc. (OTCQB: GTII) is a Nevada-based public company focused on acquiring cutting-edge technologies. Last week, GTII announced Board appointed Donald Gilbert to lead a newly created task force that will investigate illegal trading in GTII's shares. The task force will be responsible for examining and assessing the possibility of illegal and deceptive trading practices by various market players, including market makers, brokers, and hedge funds. In addition, the task force will also advise the Board on potential legal actions against market participants suspected of engaging in unlawful trading activity concerning GTII's shares. Based on its initial assessment, the task force will also advise the Board on presenting evidence of potential illegal trading activity concerning GTII's shares to relevant government and regulatory agencies. In essence, Mr. Gilbert will lead the efforts necessary for safeguarding the interests of GTII's shareholders.
For more on GTII, Subscribe Right Now!
Creatd, Inc.(OTCQB: CRTD) announced today that it had extended the no-shop period in its Letter of Intent with Global Tech Industries Group, Inc. (GTII) for its planned acquisition. Although there's no guarantee a deal will be reached, both firms continue to evaluate the deal through due diligence, and Creatd is exploring a collar structure to potentially value its shares at $3.00 to $5.00 per share.
It would be interesting to see if GTII news gets picked up by retail investors causing a further surge in stock prices. We will update GTII when more details emerge, so make sure you are subscribed to Microcapdaily to know what's going on with GTII.
Subscribe to Our 100% Free Penny Stock Newsletter. We Have Something Big Coming!
Disclosure: we hold no position in GTII either long or short and we have not been compensated for this article
Good Vibrations Shoes Inc. (OTCMKTS: GVSI): The OTC Stock To Own In 2023?
Good Vibrations Shoes Inc. (OTCMKTS: GVSI) is perhaps the most-talked-about OTC stock to kick off 2023 as a George Sharp reverse merger penny stock. Many say they won't sell for less than $.50 a share. They are banking on reverse merger whiz George Sharp to deliver the goods like he did when TSNP merged with HUMBL Inc. (OTCMKTS: HMBL).
As everyone knows, George Sharp is the stock whizz behind some of the biggest runners in recent penny stocks history, including the great TSNP and FORW, which also went from under a penny to $1 plus. For the past 17 years, George Sharp has been a consultant to companies in various contexts, including software development, assisting public companies with growth and regulatory compliance plans. In June 2017, Mr. Sharp was engaged as a consultant by OTC Markets Group, Inc. to develop compliance processes to bring more timely and actionable data to the OTC market. Working with OTCMarkets Group as a consultant for many years gives GS a considerable advantage, and if anyone can make things happen with GVSI, it is George Sharp. 
Reverse mergers can be more explosive than biotechs when the incoming Company has real value but is undiscovered to investors, and many RM stocks that we have covered on this website have gone from pennies to dollars. Microcap Daily was one of the first on the scene as TSNP was taking off, reporting on the stock on November 15, 2020 when TSNP was trading at $0.003, stating at the time:
"TSNP is making a spectacular run up the charts in recent weeks, quickly transforming into a volume leader and one of the top most traded stocks in small caps. TSNP started in triple zero land but has gone parabolic since then, quickly attracting legions of new shareholders who continue to bid the stock higher. Reverse Merger stocks (RM) are easily among the most exciting and explosive stocks in small caps rivaling only biotechs in their ability to make historic gains. TSNP is the perfect merger candidate; a clean shell with virtually no debt, and the new Company HUMBL is a major mobile payments player with a first-class management team with team members coming from companies like Western Union, Moneygram, Visa, American Express, Epson, Microsoft, Facebook and Qualcomm and was recently named a Forbes "Rising Startups to Watch" The merger is being shepherded by well-known OTC Markets analyst George Sharp, who brought the parties together and has provided valuable advice on strategies and compliance to complete the transaction." We concluded, "The whole deal is being shepherded by George Sharp, a reverse merger whizz and someone known for doing it right."
Subscribe to Our 100% Free Penny Stock Newsletter. We Have Something Big Coming!
Good Vibrations Shoes Inc. (OTCMKTS: GVSI) is a Nevada corporation, formerly known as Bitcoin Collect, Inc., Solpower Corp., Virtual Technologies, Inc., and Dynafuel Corporation, which was incorporated under the laws of the State of Utah on June 7, 1982. The Company is a perfect reverse merger candidate with a clean balance sheet of just $250k in liabilities.
To Find out the inside Scoop on GVSI, Subscribe to Microcapdaily.com Right Now by entering your Email in the box below
Latest Updates
GVSI should be Pink Current any day now. The Canadians that sold after GVSI came off the Expert Market will be buying back in. Savvy investors that picked up cheapies under $.025 will be rewarded.
I feel like $GVSI will be "current" Monday, only because we haven't received any comments since Tuesday and even that was only about the attorney letter. But of course it doesn't happen until it happens.

— George Sharp – Advocate for truth in the OTC (@GeorgeASharp) January 27, 2023
GVSI has also filed to cancel shares.
$GVSI has filed it's action to cancel shares pic.twitter.com/Q7yIrT1OID

— George Sharp – Advocate for truth in the OTC (@GeorgeASharp) January 24, 2023
We also have this agreement between GS and GVSI. These are the shares that, on August 29, 2021, in recognition of the $50,000 cash invested and $50,000 in consulting fees accrued by George Sharp for professional and regulatory costs to reinstate the registrant in the State of Nevada and to have the registrant become current in its filings under the SEC's recently imposed requirements for public companies operating under SEC Rule 15c2-11, the Board issued 300,000 shares of the authorized "blank check" preferred stock to George Sharp with 10,000 votes for each share of preferred stock to give voting control to Mr. Sharp.
$GVSI has come to an agreement with its CEO that the 300,000 Preferred B shares purchased by him cannot be converted for a period of 20 years. This restriction will pass on to any transferee once the merger is completed.

— GVSI (@OTCpinkGVSI) January 17, 2023
For more on GVSI, Subscribe Right Now!
GVSI represents the highest risk-reward in the OTC Markets right now. Some investors have been impatient and sold their shares at these low levels. The key to understanding is that these things take time, TSNP took a long, long time, and GVSI will be all the more exciting. As previously stated, Mr. Sharp was engaged as a consultant by OTC Markets Group, Inc. to develop compliance processes, so if anyone can get it done, he can. Mr. Sharp continues to tweet about GVSI regularly, and it's listed at the top of his Twitter account. All the uncertainty and bashing have created a unique situation for GVSI; it currently trades under $0.03. If things happen here as GS says they will, this will be one seriously parabolic situation with a massive upside. There are no guarantees on the OTC and no sure thing at all, GVSI is a lottery ticket for sure, but considering GS track record, I would say this is a good ticket. We will update GVSI when more details emerge, so make sure you are subscribed to Microcapdaily to know what's going on with GVSI.
Subscribe to Our 100% Free Penny Stock Newsletter. We Have Something Big Coming!
Disclosure: we hold no position in GVSI either long or short and we have not been compensated for this article
Image by WikiImages from Pixabay
Cosmos Holdings Inc (NASDAQ: COSM) Huge Short Position Panicks as COSM Rockets Up the Charts
Cosmos Holdings Inc (NASDAQ: COSM) is rocketing up the charts northbound since reversing off $0.0675 lows earlier this month where we first gave the heads up on COSM at around a dime in our article here. Since than COSM has rocketed northbound recently surpassing $0.60 per share with speculators pointing at $1 as the next stop. In our previous article on COSM on November 13 when COSM was $0.10 we stated: "COSM was trading well over $3 at the beginning of this year but has been heavily shorted since than with current estimates of well over 5 million shares sold short and almost the entire public float sold short. 
While COSM has been heavily shorted into oblivion, the Company is actually doing quite well recently reporting revenues for the 3 months ended September 30 were $12 million. The Company is successfully developing their business recently closing a deal with Iberica, a European Airline, for in flight distribution of their products. The CEO has bought millions of shares at current levels and COSM is beginning to go viral on social media trending on the sub reddit Short Squeeze, Number #1 on Stocktwits and multiple videos being made on YouTube about a massive short squeeze taking place in small caps. 
COSM Friday December 2, 4PM Close Update: COSM had a wild trading day on Friday dropping to $0.42 in the morning before rocketing up to $0.61 highs. This was followed by another drop to the $0.47 range before COSM rocketed up in late afternoon trading, closing at $0.53 on 205 million shares traded. COSM was up 33% on the day on around $110 million in dollar volume. COSM is setup for an enormous week ahead, 

looking

 to overtake the $0.845 from Monday and embark on a blue-sky breakout with $1 as the first stop. 

We gave the heads up on COSM when the stock was below $0.10 per share at the beginning of November. 

We will be updating on COSM as soon as anything new happens so make sure you are subscribed to 

Microcapdaily

 by entering your email in the box below. 

 
Subscribe to Our 100% Free Penny Stock Newsletter. We Have Something Big Coming!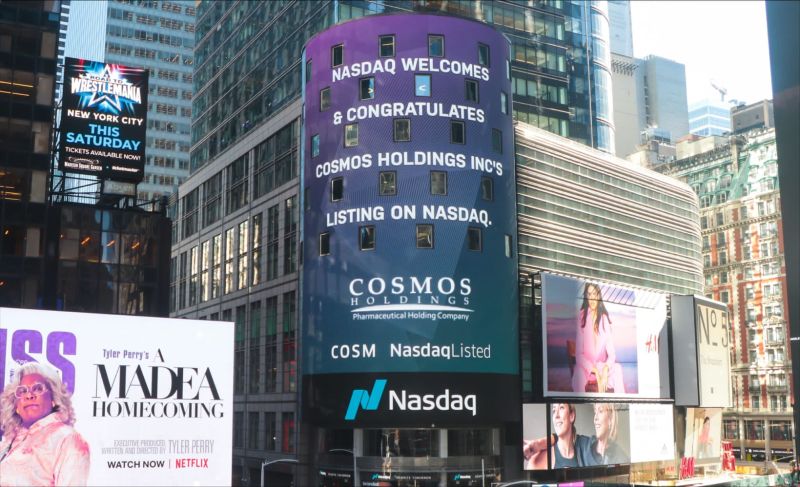 Cosmos Holdings Inc (NASDAQ: COSM) is a global healthcare group that was incorporated in 2009 and is headquartered in Chicago, Illinois. Cosmos Health is engaged in the nutraceuticals sector through its own proprietary lines of products "Sky Premium Life" and "Mediterranation." Additionally, the Company is operating in the pharmaceutical sector through the provision of a broad line of branded generics and OTC medications and is involved in the healthcare distribution sector through its subsidiaries in Greece and UK serving retail pharmacies and wholesale distributors. Cosmos Health is strategically focused on the R&D of novel patented nutraceuticals (IP) and specialized root extracts as well as on the R&D of proprietary complex generics and innovative OTC products. Cosmos has developed a global distribution platform and is currently expanding throughout Europe, Asia and North America. Cosmos Health has offices and distribution centers in Thessaloniki and Athens, Greece and Harlow, UK. 
The Number #2 post on the subreddit ShortSqueeze currently is titled: COSM about to test resistance. A pump through $0.66 and lift off to over $1.00 is possible now. 
In another post on COSM in the subreddit ShortSqueeze rubio2430 states: "$COSM you cant make this stuff up. this baby is ready for space. the shorts are burying themselves on the daily. constant pr's, growing fundamentals, no plans on dilutions, dual listing on upstream soon—the list goes on! 
nimble_broccoli replied: Why this is a good play: 
1.) Extremely tiny Marketcap 2.) CEO buying 15'000'000 shares 3.) Good fundamentals, unlike other plays, they actually sell products valued around 10x the valuation. Q1/22 was profitable. 4.) Getting momentum on social media (Reddit Twitter, YT) 
Next catalysts: -Info that they will not be delisted from NASDAQ -Degen and Retail FOMO kicking in -Shorts starting to cover their asses 
In addition, consider this: The stock was somewhere between USD 2 and USD 12 the past ~8 years. Most Hodlers bought back then, do you think they will sell now? Do your own thinking but if one of my stocks dropped 80+ % i d not sell, i d just hope for a miracle or ride it out. Thus, not many regular buy&hold holders of the stock are expected to sell. 
Cosmos operates in the business of full-line pharmaceutical wholesale distribution and serves approximately 1,500 independent retail pharmacies and 40 pharmaceutical wholesalers in Greece region by providing brand-name and generic pharmaceuticals, over-the-counter medicines, vitamins and nutraceuticals. Cosmos invests in technology to enhance safety, distribution and warehousing efficiency and reliability. Specifically, the Company operates a fully automated warehouse system with three robotic systems, two ROWA™ types and one A-frame type, that ensure 0% error selection rate, accelerate order fulfillment, and yield higher cost-efficiency in our distribution center. Cosmos has 3 operating subsidiaries including:
Sky Pharm SA is headquartered in Thessaloniki, Greece. Sky Pharm trades the excess amounts of about 500 medicines that can be exported within the EU countries. We buy from Greek wholesale pharmaceutical companies and multinational pharmaceutical manufacturers, and export to European markets where demand and prices are substantially higher.
.
Decahedron Ltd. is a pharmaceutical wholesaler incorporated in the UK in August 2011. It is audited by the MHRA under European GDP (Good Distribution Practices). They are also a full member of the EAEPC and have been audited by TÜV on their behalf.
.
Founded in 1994, Cosmofarm is a fully licensed pharmaceutical wholesale company operating in the greater Athens area. The company is approved and authorized by the National Organization for Medicines under Good Distribution Practices to distribute a comprehensive range of pharmaceutical products. Cosmofarm's core activity is sourcing, procuring, and distributing branded.
.
To Find out the inside Scoop on COSM Subscribe to Microcapdaily.com Right Now by entering your Email in the box below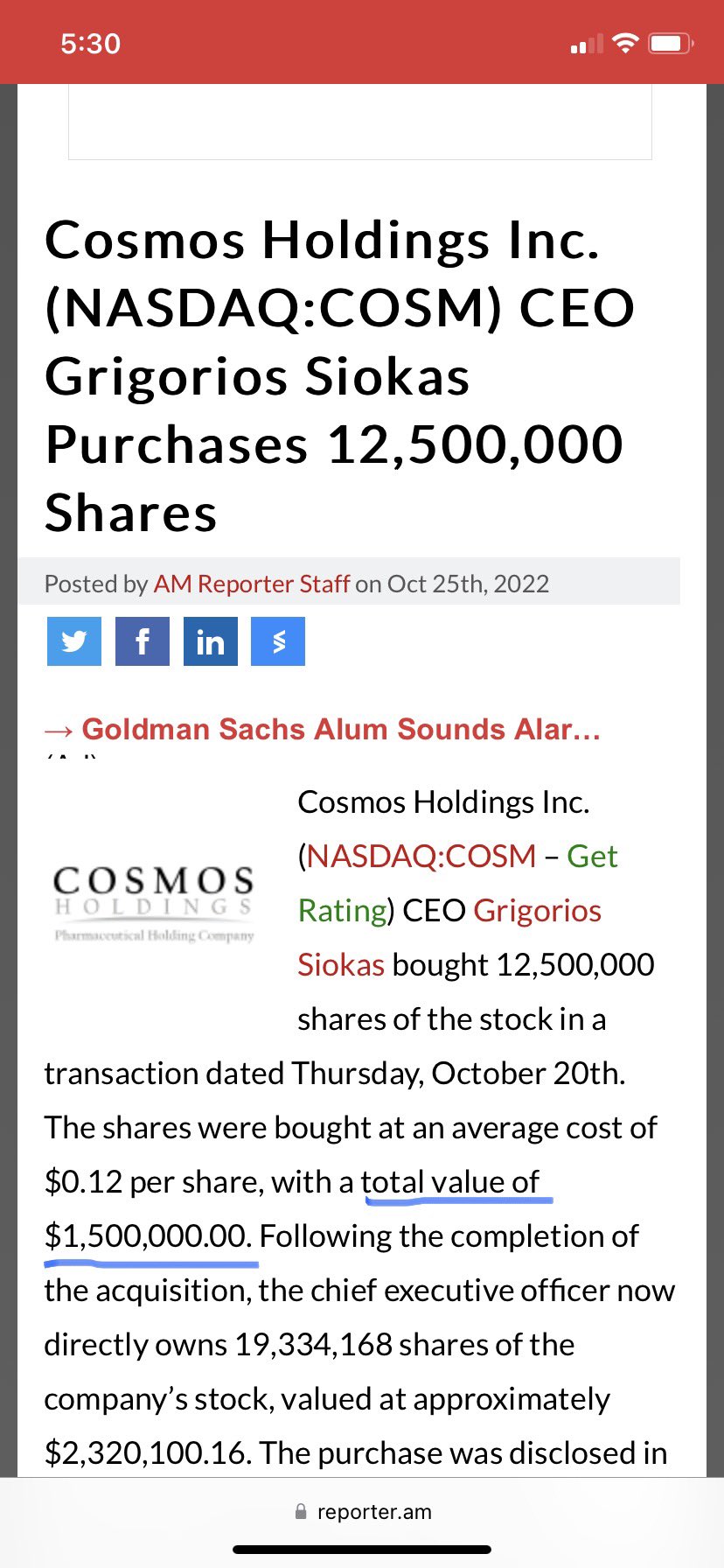 COSM business is strong and Q3 highlights include closing a $7.5M capital raise via public offering and signing an exclusive agreement to market and distribute Nickelodeon's SpongeBob and PAW Patrol kids' vitamins in Greece and Cyprus, aiming to reach out 11,000 pharmacies and 120 wholesalers in Greece and 780 pharmacies in Cyprus. They also executed a letter of intent for a strategic co-venture agreement with Smart for Life (SMLF) to cross market products and services in their reciprocal markets. COSM also entered into an LOI to acquire ZipDoctor Inc., and entered into an agreement with Virax Biolabs (VRAX), to become the distributor of Monkeypox Virus Real-Time PCR Detection Kits, having the exclusive distribution rights for Greece and Cyprus, with the opportunity to distribute the test kits across Europe on a non-exclusive basis. SkyPharm officially launched its first Sky Premium Life products on Amazon in the United States. Cosmos targets having all 85 SKUs listed on Amazon by year end. COSM entered into an LOI to acquire Pharmaceutical Laboratories CANA S.A., and another LOI to acquire LIFE NLB, Ltd.'s product portfolio, including Bone-Vio® and Bone-X, related to bone health targeting the human gastrointestinal microbiome. 
Last week COSM announced its Sky Premium Life luxury food supplement brand will be sold on Ronda, the official inflight magazine of the airline company Iberia of BRITISH AIRWAYS group. Ronda is available free of charge to the over 10 million passengers who fly Iberian Airlines annually. Iberia Airlines, majority owned by British Airways, has a fleet of 147 aircrafts and engages in over 600 daily flights. 
https://twitter.com/nxtplse/status/1597365583934545920
For More on COSM Subscribe Right Now!
Currently trading at a $36 million market valuation COSM os is 92,008,281 the Company recently reported Q3 Revenues of $12 million down a bit from the same time last year due to a high variation in FX differences between EUR and GBP to USD. COSM was trading over $4 this time last year however OS has increased substantially since then.  COSM is an exciting opportunity in small caps; the stock was shorted into oblivion and currently there are minimum 5.8 million shares short and was way oversold to pennies and it looked as if it would definitely get delisted by the Nasdaq however, led by able CEO Grigorios Siokas, Cosmos is fighting back. Mr. Siokas continues to buy more COSM at current price levels, putting his money where his mouth is as COSM rockets towards $1 which is now just a day and half away if the stock continues up at the same trend.  We will be updating on COSM when more details emerge so make sure you are subscribed to Microcapdaily.
Subscribe to Our 100% Free Penny Stock Newsletter. We Have Something Big Coming!
Disclosure: we hold no position in COSM either long or short and we have not been compensated for this article.