Cosmos Holdings Inc (NASDAQ: COSM) is making a rapid move up the charts since recent reversing off $0.0675 lows. The stock was trading well over $3 at the beginning of this year but has been heavily shorted since than with current estimates of well over 5 million shares sold short and almost the entire public float sold short. COSM is quickly emerging as the latest short squeeze at the top of speculators watch lists and is currently trending on stocktwits and the sub reddit ShortSqueeze on Reddit. 
The Company is fighting back against the shorts and planning a lawsuit and CEO Grigorios Siokas recently put his money where his mouth is when he bought 12,500,000 shares of the stock at $0.12 average for about $1.5 million. While in danger of being delisted from the Nasdaq if they don't get the stock price back over $1 by the end of November the Company is doing well recently reporting its first ever net income on $13,208,504 in revenues for the 3 months ended June 30, 2022. Cosmos is also acquiring ZipDoctor Inc. from American International Holdings Corp (AMIH) 
Subscribe to Our 100% Free Penny Stock Newsletter. We Have Something Big Coming!
Cosmos Holdings Inc (NASDAQ: COSM) is an international healthcare group that was incorporated in 2009 and is headquartered in Chicago, Illinois. On August 2, 2022, the Company filed a Fictitious Firm Name Certificate in Nevada to do business under the name Cosmos Health, Inc. and will seek shareholder approval at its annual shareholders meeting scheduled for December 2, 2022 to amend its Articles of Incorporation for the name change. Cosmos Health is engaged in the nutraceuticals sector through its own proprietary lines of products "Sky Premium Life" and "Mediterranation." Additionally, the Company is operating in the pharmaceutical sector through the provision of a broad line of branded generics and over-the-counter ("OTC") medications and is involved in the healthcare distribution sector through its subsidiaries in Greece and UK serving retail pharmacies and wholesale distributors.  
Cosmos operates in the business of full-line pharmaceutical wholesale distribution and serves approximately 1,500 independent retail pharmacies and 40 pharmaceutical wholesalers in Greece region by providing brand-name and generic pharmaceuticals, over-the-counter medicines, vitamins and nutraceuticals. Cosmos invests in technology to enhance safety, distribution and warehousing efficiency and reliability. Specifically, the Company operates a fully automated warehouse system with three robotic systems, two ROWA™ types and one A-frame type, that ensure 0% error selection rate, accelerate order fulfillment, and yield higher cost-efficiency in our distribution center. Cosmos has 3 operating subsidiaries including:
Sky Pharm SA is headquartered in Thessaloniki, Greece. Sky Pharm trades the excess amounts of about 500 medicines that can be exported within the EU countries. We buy from Greek wholesale pharmaceutical companies and multinational pharmaceutical manufacturers, and export to European markets where demand and prices are substantially higher. The …
Decahedron Ltd. is a pharmaceutical wholesaler incorporated in the UK in August 2011. It is audited by the MHRA under European GDP (Good Distribution Practices). They are also a full member of the EAEPC and have been audited by TÜV on their behalf. They import and export branded, generic and …
Founded in 1994, Cosmofarm is a fully licensed pharmaceutical wholesale company operating in the greater Athens area. The company is approved and authorized by the National Organization for Medicines under Good Distribution Practices to distribute a comprehensive range of pharmaceutical products. Cosmofarm's core activity is sourcing, procuring, and distributing branded
$COSM If you're in or looking to add a starter, you need to watch this video.
Brief Summary:
1) Company is suing to deal with the illegal shorting
2) CEO purchased $1,500,000 of stock on Open Market
3) They're acquiring an OTC based company (Yet to be confirmed) https://t.co/5bZnHbTcBu

— OTC Chairman 📈📊 (@ChairmanOtc) November 11, 2022
To Find out the inside Scoop on COSM Subscribe to Microcapdaily.com Right Now by entering your Email in the box below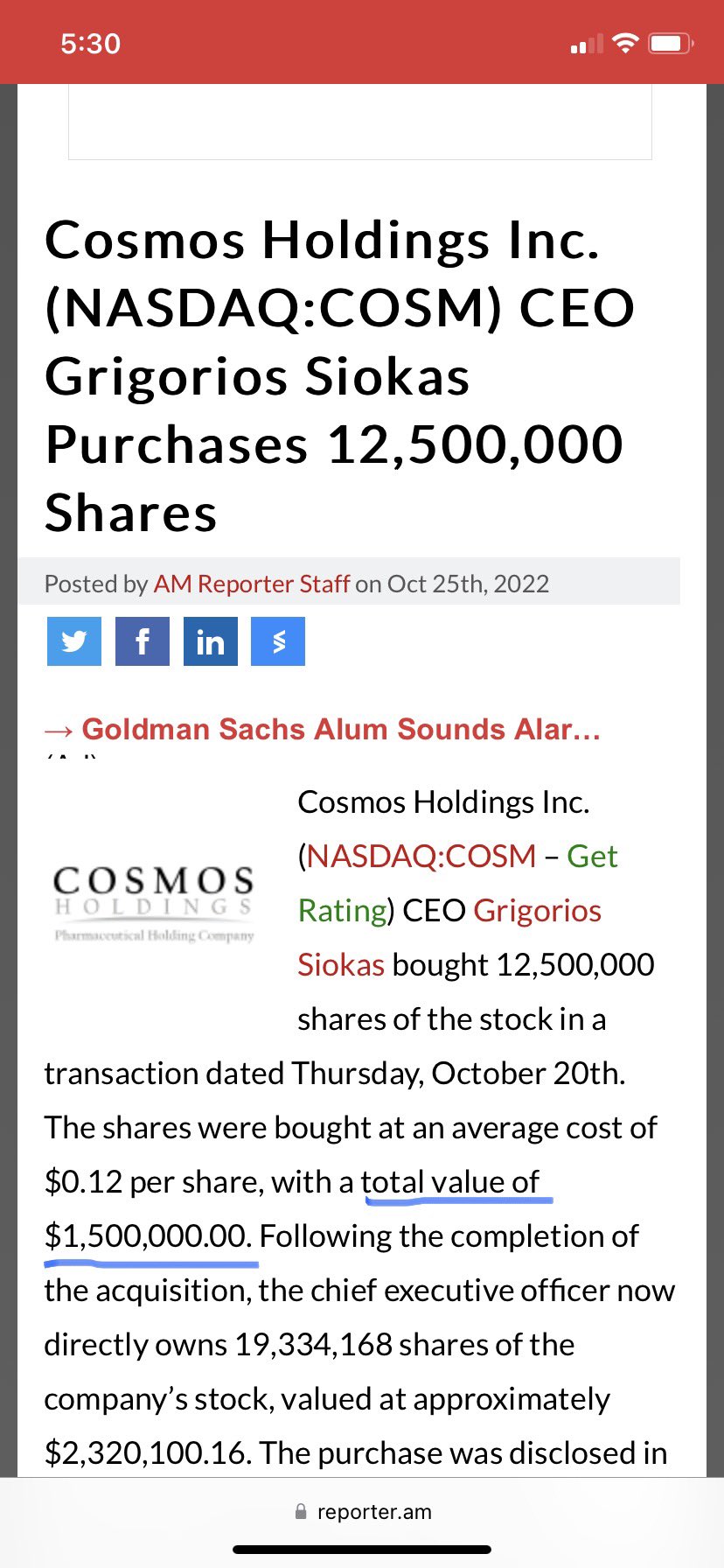 On August 22 Cosmos provided a business update and reported financial results for the second quarter and six months ended June 30, 2022. Revenues were $13,208,504 for the 3 months ended June 30, 2022 compared to $14.8 million for the same period last year. 
Greg Siokas, Chief Executive Officer of Cosmos Health, stated, "We increased our profitability for the first half of 2022 due to the increase of gross profit margin to 14.2% from 11.5% for the respective period of 2021. This increase is attributed mainly to the organic growth of our proprietary nutraceutical brand, Sky Premium Life® ("SPL"). We achieved positive income from operations of $0.2 million for the first half of 2022 compared to a loss of $3.1 million in the same period last year and positive EBITDA of $0.8 million for the first half of 2022 compared to a loss of $2.8 million for the same period last year. Gross profit increased by 23.0% to $3.7 million for the six months ended June 30, 2022. We continue to carefully manage expenses and reduced operating expenses by nearly 43.7% and 41.9% for the three and six months ended June 30, 2022, respectively. During the quarter, we launched a new premium line of nutritional supplements, Mediterranation. The Mediterranation line uses organic herbs and plant extracts such as crataegus, hibiscus, dittany of Crete, oregano, mastic and kritamos, found in specific regions in Greece and the Mediterranean. These unique formulations contain a proprietary blend of vitamins and minerals and are made with the highest quality raw materials. There is high demand among consumers for supplements that utilize high quality Mediterranean ingredients, such as polyphenols, which possess antioxidant and anti-inflammatory properties. We expect the launch of the Mediterranation line will further enhance our growth strategy and we look forward to expanding the product line into new global markets through our growing distribution channels. We also launched our SPL products on Amazon Singapore and are in the process of launching on Amazon United States and Amazon Canada in the third quarter of 2022. These new markets provide an untapped growth opportunities and new audiences for our proprietary SPL brand. Our goal is to grow our portfolio of branded nutraceuticals and reach up to 150 SKUs by the end of 2022." 
Earlier this year Cosmos announced an LOI to acquire ZipDoctor Inc. from American International Holdings Corp (AMIH). AMIH will continue to manage all aspects of the day-to-day operations of ZipDoctor including product development, marketing, and operational support. ZipDoctor Inc., is a direct-to-consumer subscription-based telemedicine platform, that expects to provide its customers affordable, unlimited, 24/7 access to board certified physicians and licensed mental and behavioral health counselors and therapists. ZipDoctor's online telemedicine platform will be available to customers across the United States and offers English and Spanish coverage with virtual visits taking place either via the phone or through a secured video chat platform. 
On October 17, 2022, Cosmos entered into a Securities Purchase Agreement with certain institutional investors (the "Purchasers"), pursuant to which the Company agreed to issue and sell, in a public offering, an aggregate of $7,500,000 of securities, consisting of (i) 62,500,000 shares of Common Stock, (ii) pre-funded Warrant in lieu of shares of Common Stock, and (iii) warrants to purchase 125,000,000 shares of Common Stock (the "Common Warrants" and collectively with the Pre-Funded Warrants, the "Warrants").  Under the terms of the Purchase Agreement, the Company agreed to sell one share of its Common Stock or a Pre-Funded Warrant and two Common Warrants for each share of Common Stock or Pre-Funded Warrant sold at a unit price of $0.12.  For each of 15,662,603 Pre-Funded Warrant sold in the Offering, the number of shares of Common Stock offered were decreased on a one-for-one basis. 
$COSM CEO bought $1.5M worth of shares 👀 MASSIVE Short Squeeze opportunity. 628% short interest, almost 93-97% of float shorted, something BIG on the horizon 🚀🤑🚀 $MULN $AMC $GME $PIXY $TSLA $BTC.X $SHIB.X $FTX $FTT.X $META $AAPL $HUDI $XELA $SPY $DWAC $QQQ $CRO.X $DWAC pic.twitter.com/H1sZ1qKG2P

— Dwight Goodman (@AirGoodman24) November 13, 2022
 For More on COSM Subscribe Right Now!
Currently trading at a $10 million market valuation COSM is the latest potential short squeeze at the top of speculators watch lists. With $35 million in current liabilities and an inability to collect on accounts receivables that currently stand at over $25 million COSM stock has lagged even as the Company reports its first ever net income on $13,208,504 in revenues for the 3 months ended June 30, 2022. The short position on COSM has grown to well over 5 million shares short and currently the entire public float is sold short. Now that the cat is out of the bag and the stock is surging northbound COSM short squeeze should be at the top of small cap speculators watch lists. We will be updating on COSM when more details emerge so make sure you are subscribed to Microcapdaily.
Subscribe to Our 100% Free Penny Stock Newsletter. We Have Something Big Coming!
Disclosure: we hold no position in COSM either long or short and we have not been compensated for this article.